We're highlighting a teacher every Wednesday as a part of the #RedForEd campaign.
Every year is a great year to celebrate our teachers, but this year has shined a bright light on the flexibility and compassion of our incredible staff.
Today we're highlighting Mrs. Shannon Loughmiller, a Family/Consumer Sciences teacher at Terre Haute North High School.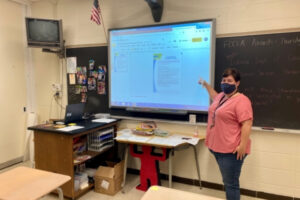 What motivates you?
My students and my family! Teaching was a great career change a few years ago for my family and I love making a difference in the students' lives that I get to teach daily. Part of being a teacher in the FACS department is that students often choose to be in your classes and so they tend to be invested and enjoy what they are learning. High school is hard and a lot of our students have a ton of things going on in and outside of school, I want to be a safe place and environment for them to learn Human Services and learn about themselves as we navigate what their future holds in my classes!
How has your job changed due to COVID?
Virtual school is HARD! It's hard for our students, it's hard for the teachers, it's hard for the support systems or lack of at home. I think that our school is navigating uncharted territory the best that they can and I am grateful for that and the support we have gotten this year. I think for myself and the other teachers I spend time with, we have all learned to have more grace this year. Students are struggling with more this year than any other year I have taught and the teachers and staff are struggling too! Corona has not been kind to any of us, it has taken the human connection from our lives and made virtual the normal. In Human Services we talk about the human connection and being kind humans frequently. It has also messed up some of the opportunities that I could have given my students this year, so that was a bummer! They have made the best of this year though and pushed through, I am proud of each of my students!
What is something that people don't understand about your job?
Teachers have not had more time off this year, if anything we have worked harder. We have created new virtual classrooms, we have learned how to motivate (or at least try) our students virtually and in a classroom that looks and feels different. In the Human Services we talk about ALOT of life, seeing faces is important as you talk about the tough stuff, masks have made class much more disconnected. Students don't want to talk as much as they used to, they either feel silenced or protected by their masks, whatever it is, they are much quieter when not pushed to speak up. It has been much harder to have conversations and get to know masked kids, however, like I said, they have pushed on and so have we as teachers, so proud of my co-workers and all the hard work and creativity we have had this year!
Why do you love VCSC/your school?
Teaching was a new path for me. I came from working nights and weekends in harsh environments at thankless jobs where I didn't matter to the clients that I worked with for the most part, they didn't understand or appreciate those that cared for them. I am grateful to be in a positive work environment with people who care about the people they are serving and want them to succeed! I am grateful for a job I enjoy coming to each and every day.
Be sure to check back on #Staffurday–Saturday, that is–as we recognize members of our non-teaching staff. We'll continue both campaigns through the end of the school year.