Students are our most precious resource.
Special Education
The Vigo County School Corporation is a member of a special education cooperative, Covered Bridge Special Education District.
Learn more
Student Records
The Office of Student Services can supply current and past students with a range of student records, such as transcripts and immunization records.
Request Records
State Report
The Indiana Department of Education's INview system keeps a record of the Vigo County School Corporation's performance in a dashboard-style system.
Learn more
Non-Discrimination Notice: Section 504/Title II
The policy of the Vigo County School Corporation is that there will be no discrimination made on the basis of race, religion, sex, national origin, age, disability, or handicap in the educational services or activities which it supports.
Non-Discrimination Notice
Dyslexia Guidance/Senate Enrolled Act 217
In accordance with Senate Enrolled Act 217, the Vigo County School Corporation screens students for dyslexia in kindergarten, 1st grade, and 2nd grade.
Textbook fees are payable on Skyward (credit card) or your school's front office (cash or check). Checks can also be mailed to the Administration Building: Textbook Office, PO Box 3703, Terre Haute, IN 47803.
Contact Kathy Lady, Purchasing and Textbook Manager, or Susan Byrley with questions at 812-462-4229 or textbooks@vigoschools.org.
Elementary School Fees: 2020-21
Kindergarten: $126.00
Grade 1: $140.00
Grade 2: $126.00
Grade 3: $131.00
Grade 4: $102.00
Grade 5: $120.00
Middle School Fees: 2020-21
Grade 6: $153.00-$174.50
Grade 7: $155.75-$174.00
Grade 8: $154.00-$172.00
Breakdown of Middle School Fees:
Technology: $14.00
Art: $5.00
Science: $6.00
Health: $3.00
Music: $7.00
FACS: $10.00
Business Ed.: $10.00
The Vigo County School Corporation provides each student with a Chromebook. This device is the property of the VCSC. The VCSC asks families to help protect and care for the investment of our Chromebooks. The purpose of the Chromebook is to provide each student access to required educational materials needed to promote and enhance learning. For questions regarding the 1:1 Chromebook program, please contact Doug Miller, Director of Information Technology, at douglas.miller@vigoschools.org.
Chromebook Repair Fees: To begin August 2022
Screen hinge: $25
Power adapter: $27
Keyboard replacement: $50
Screen replacement: $150
Damaged port/spill: $150
Lost/stolen/beyond repair: $300

Students who qualify for free and reduced lunch do not pay textbook rental fees, and only have to pay the consumable fee. Families can apply for free/reduced lunch status by visiting www.myschoolapps.com.
The Vigo County School Corporation uses an electronic flyer communication tool called Peachjar. Each school can email electronic flyers to its families. Organizations can send approved electronic flyers to all families at each school. Contact Bill Riley, Director of Communications, with questions.
Learn more

Skyward is our data management system. The Vigo County School Corporation uses Skyward Family Access for parents/guardians to access their child's information, grades, and schedule. If you have questions about access or the information within your account, start with your child's school secretary.
Learn more

Canvas is a course management system that supports online learning and teaching. It allows teachers to post information, lessons, and assignments online. It is being used by schools all over the world.
Visit Canvas
Canvas, Chromebook, and Google Help
Intro to Canvas Video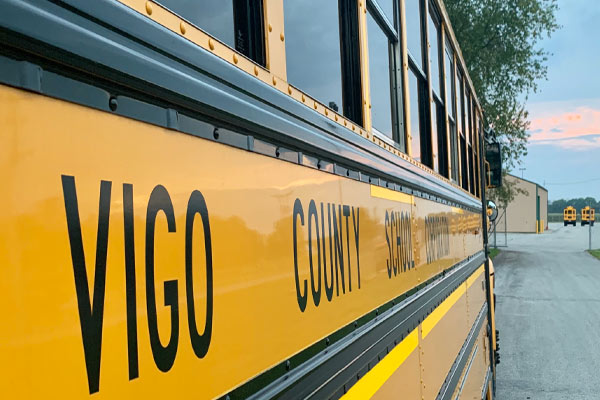 The safe transportation of students is a responsibility shared by the VCSC administration, transportation staff, drivers, parents and students. We are committed to providing safe vehicles and qualified drivers along with school bus safety education to students and parents.
Learn more