Electrical
Students in the Industrial Maintenance Technician–Electrical pathway learn principals of advanced manufacturing.
Machining
Students in the Precision Machining pathway learn the processes used to produce industrial goods and prepare for the National Institute for Metalworking Skills Measurement, Materials & Safety certification.
Digital Design
Students in the Digital Design pathway are introduced to fundamental design theory.
Welding
In the Welding Technology pathway, students learn principles of welding technology, including classroom and laboratory experiences that develop skills in oxy-fuel cutting and basic welding.
Industrial Automation & Robotics
Students in the Industrial Automation and Robotics pathway learn manufacturing processes and practices used in manufacturing environments.
A Career Pathway is a deliberate series of courses made up of a principles course, concentrator A course, concentrator B course, and capstone course that all connect to post-secondary education/training and a career.
Most pathways have embedded transferrable dual college credit and industry credentials as part of the pathway. Some result in a technical certificate or eliminating one year of post-secondary education.
The Vigo County School Corporation offers over 30 different Career Pathways across multiple clusters.
The classes to set students on a path to success
The Vigo County School Corporation has a number of Career Pathways clusters to help students imagine a career.
Life-changing opportunities for students
By providing an extensive catalog of career pathways for students in Vigo County Schools, we are creating opportunities for students to graduate high school ready to enter the workforce, enter a trade, or transition to college ahead of the game with dual credits earned in high school.
Students who participate in Work-Based Learning also may have the opportunity to be paid for working in the field of their choice and earn resume-building work experience before they graduate.
View career pathways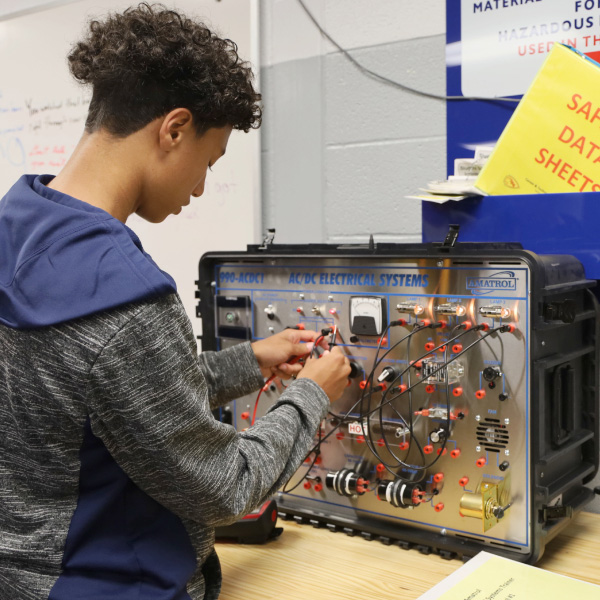 Guiding students to a brighter future
The Vigo County School Corporation is committed to guiding students as they work in a Career Pathway.
Choosing a pathway
Students can begin working in a selected pathway as early as their 9th grade year. By starting earlier, students have more time in case they decide to pursue a different pathway. Some clusters have a few different pathways, allowing students flexibility for transitioning to a new pathway.
Guidance for students
Counselors and Career/Technical Education teachers are great resources for students to better understand the pathways. Counselors can help students to understand their strengths and interests to help them choose the best pathway. Career/Technical Education teachers in individual pathways are experts in their area and can provide students with more detailed information.
Career Pathways are important
Pathways help students meet graduation requirements. Students who participate in a pathway have opportunities to earn dual credits that can transfer to college after high school. Students can earn industry credentials and certifications.
Not all students participate in pathways, because there are different options for each diploma type. Participating in career pathways in high school helps students identify potential career paths with minimal cost.