Every Saturday, we highlight a non-teaching staff member on our Facebook and Twitter (@vcsc_teamvigo) account, turning Saturday into #Staffurday to introduce you to some of the people who make school happen!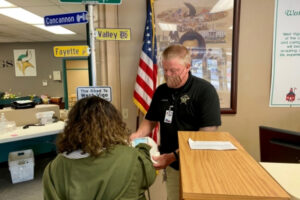 Every year is a great year to celebrate our staff, but this year has shined a bright light on the flexibility and compassion of our incredible staff.
Today, meet Mr. Joe Watts, a school protection officer at West Vigo High School.
What motivates you?
I have always been a motivated person, especially when helping others. Here at West Vigo High School, one cannot help but be motivated. The staff, students, and educational environment is an automatic motivator. When students routinely approach me and want to "discuss life issues" it is not only a daily reminder that our jobs are important and that we have the ability to make a student's life
better, it too serves as a constant motivator and warms your heart.
How has your job changed due to COVID?
In general, COVID has caused us to wear masks, thus reducing the smiles we see in each other. I think smiles are important to all of us. As school protection officers, we have the responsibility to meet and greet each and every visitor to our school and with COVID, we obviously have less visitors and less personal interaction.
What is something that people don't understand about your job?
Some people may not fully understand the duties of a school protection officer and may think we are just security. However, I take it upon myself to assist the staff with any task or assistance they may need and I work hard to establish a good rapport with the students. I feel establishing a trustworthy relationship with all students and staff, supports a better educational and work environment and ultimately provides the students with another conversational resource. I also believe the knowledge
and skills obtained thru my ISP career, as well as emergency medical knowledge gained thru previous ambulance service work experience enhances my abilities to help in any capacity.
Why do you love VCSC/your school?
The Vigo County School Corporation has allowed me to establish a post-career opportunity that I truly love and they have done this with the utmost respect and professionalism. As for the school I am assigned, West Vigo High School, I truly cannot say enough about the staff and students. The staff has went above and beyond to make me feel welcome and part of the family. They are definitely some of the absolute best people I have ever worked alongside. I often tell family, friends, and acquaintances that West Vigo High School is a "hidden gem" and a provides a culture that not only nurtures the students, but the staff as well. The "Viking Mentality" is very palpable and it is a true joy to be a part of it. Without a doubt, it is both an honor and a privilege to work with the West Vigo HS family and the Vigo County School Corporation.
Be sure to check back on Wednesday as we highlight another teacher for #RedforEd Wednesday! We'll continue both campaigns through the end of the school year.