We're highlighting a teacher every Wednesday as a part of the #RedForEd campaign.
Every year is a great year to celebrate our teachers, but this year has shined a bright light on the flexibility and compassion of our incredible staff.
Today we're highlighting Mrs. Lindsay Wilhoyte, an English teacher at Booker T Washington High School and Vigo Virtual Success Academy.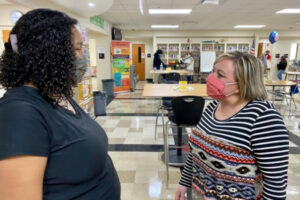 What motivates you?
I am motivated by the hardworking people that I work with every day.  Through all of the changes this school year, the staff at Booker T. Washington and Vigo Virtual Success Academy has weathered the storm without complaint and has continued to challenge our students with innovative assignments. I am also motivated by my students, many of them facing challenges some adults have not faced.  The dedication I see in my students helps me to be motivated to be a better teacher and person.
How has your job changed due to COVID?
Vigo Virtual Success Academy's enrollment grew dramatically due to COVID. We had a continuous schedule of orientations along with conferences with teachers and families to balance throughout the week. The number of students that I am virtually checking in with every week also changed as our enrollment increased.
What is something that people don't understand about your job?
When looking at my position at Booker T. Washington, people do not understand the challenges that our students in alternative education face. Our students have overcome so much in their young lives and we hope that the skills we are teaching at Booker T. Washington will help them in their future. When looking at my position at Vigo Virtual Success Academy, people do not realize how many students we service with such a small staff.  Our small staff is taking care of an entire school with students in grades K-12, so we all wear many hats.
Why do you love VCSC/your school?
I love that VCSC is such a tight knit community. I taught at Terre Haute North for seven years before coming to Booker T. Washington and Vigo Virtual Success Academy and many of my good friends were made while working there. It has also been a pleasure to work side by side with staff members from other schools in the corporation this school year through Vigo Virtual Success Academy. Everyone from administrators, counselors, teachers and support staff all have had the same mission of wanting students to be successful.
Be sure to check back on #Staffurday–Saturday, that is–as we recognize members of our non-teaching staff. We'll continue both campaigns through the end of the school year.