We're highlighting a teacher every Wednesday as a part of the #RedForEd campaign.
Every year is a great year to celebrate our teachers, but this year has shined a bright light on the flexibility and compassion of our incredible staff.
Today we're highlighting Mrs. Holly Meehan, a 1st grade teacher at DeVaney Elementary School.
What motivates you?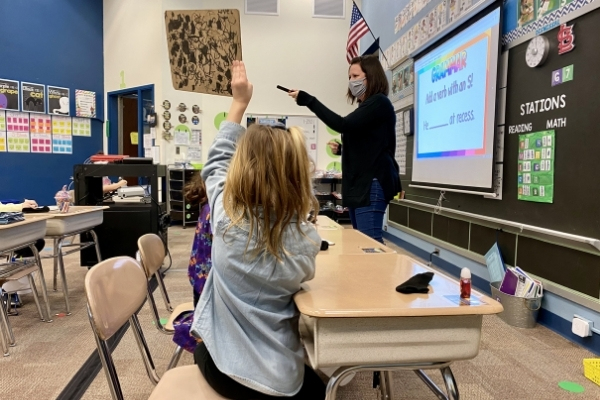 Many things motivate me (like coffee), but mostly my funny, loving, resilient students and their supportive families. I also work with an incredible team of educators who make me laugh daily, wipe my tears when needed and push me to be a better teacher. I also have a very understanding family. They know that school often comes home with me and they cheer me on because they know I'm doing what I love.
How has your job changed due to COVID?
COVID has definitely added a layer of stress and extra work to the day. Teachers have had to rethink every part of their day and find creative ways to maintain student engagement, yet keep students healthy. Despite the extra stress, there have been many little blessings in disguise. I've learned so many new strategies that I will carry with me after COVID ends. I never thought I would say this, but teaching through a pandemic has made me a better teacher!
What is something that people don't understand about your job?
There is so much more to a classroom than the worksheet or project that goes home with students. Walk into any classroom and you'll find teachers tying shoes, wiping tears, giving air hugs, teaching life skills, helping with social emotional health, teaching the curriculum, and so much more all mixed together. All of the planning and prepping that go into making all of that come together in the end is substantial. Most teachers I know work well beyond their contractual hours so they can find the best ways to make it all happen for their students.
Why do you love VCSC/your school?
DeVaney is my family. We walk through this journey of teaching together daily. It's not always sunshine and flowers. But, when we run into an obstacle, we work together to solve those problems. Nobody struggles alone. When one person is having a hard time, the team rallies and helps lift the burden. We also thrive on laughter. Throughout this challenging year, there have been many tears, but we've had just as many laughs together and that is important to me. I can honestly say that I work with the best.
Be sure to check back on #Staffurday–Saturday, that is–as we recognize members of our non-teaching staff. We'll continue both campaigns through the end of the school year.