We're highlighting a teacher every Wednesday as a part of the #RedForEd campaign.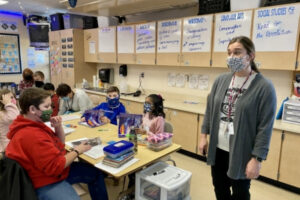 Every year is a great year to celebrate our teachers, but this year has shined a bright light on the flexibility and compassion of our incredible staff.
Today we're highlighting Mrs. Kylee Fuqua, a 5th grade teacher at Dixie Bee Elementary School.
What motivates you?
My students are the biggest motivators for me. Every day when I come to school, I literally see the future of our world sitting right in front of me! Knowing that I could be a difference maker for many of my students inspires me to be a better person and role model for them! Fifth grade is the best grade because it is their last year as an elementary school student so I feel like I am playing a big role in shaping them to become respectful and responsible teenagers as they move on in their academic careers. It's amazing to me how much my students grow in the short 180 days I get to spend with them.
How has your job changed due to COVID?
Even though I know this year is going to be a memorable one, I feel like it's for the wrong reasons. COVID has taken away many of the opportunities that I would normally have to create memories with my students. Field trips, group projects/games, and much of the normal social interactions have not been able to happen this year so I have needed to get extra creative to create opportunities for my students to feel "normal" at school. I truly admire how resilient and positive-minded my students have been throughout this whole COVID experience.
What is something that people don't understand about your job?
Teaching is not a job where you can drop everything and be out of the door by closing time. Countless hours "off-the-clock" are spent planning lessons, prepping materials, grading papers, and contacting families. I strive to make my lessons as engaging as possible for my students and I love having a positive home/school relationship with the families of my students so I do not mind putting in the extra time for my students! To me, it's worth it!
Why do you love VCSC/your school?
Even with this only being my second year at Dixie Bee, I feel like I can say that I have found my "forever home." I have always felt welcomed and valued as a teacher and I know that I am working with some of the best educators in the county. As a product of the VCSC myself, I feel honored to go to work every day and represent the corporation that shaped me into the person I am today!
Be sure to check back on #Staffurday–Saturday, that is–as we recognize members of our non-teaching staff. We'll continue both campaigns through the end of the school year.