We're highlighting a teacher every Wednesday as a part of the #RedForEd campaign.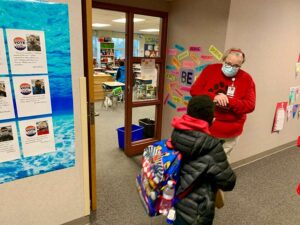 Every year is a great year to celebrate our teachers, but this year has shined a bright light on the flexibility and compassion of our incredible staff.
Today we're highlighting Mrs. Mary Alice DeWitt, a second grade teacher at Sugar Grove Elementary School.
What motivates you?
I am motivated by my students' excitement as they learn. Looking back over the year at their growth is very satisfying.
How has your job changed due to COVID?
The most difficult part of teaching during COVID has been refraining from contact with the children.  I am a teacher who loves to give hugs, high fives, fist bumps, and pats on the back.  Trying to do it all in the air has been an adjustment.
What is something that people don't understand about your job?
I don't think that people realize how much my students are always on my mind and in my heart.  Every night, I fall asleep thinking of them.
Why do you love VCSC/your school?
Sugar Grove is a fantastic place to teach because the staff here has a huge commitment to our students, and to each other.  We are a diverse family that supports everyone.
Be sure to check back on #Staffurday–Saturday, that is–as we recognize members of our non-teaching staff. We'll continue both campaigns through the end of the school year.