We're highlighting a teacher every Wednesday as a part of the #RedForEd campaign.
Every year is a great year to celebrate our teachers, but this year has shined a bright light on the flexibility and compassion of our incredible staff.
Today we're highlighting Mrs. Jessyka West, a 3rd grade teacher at Fuqua Elementary School.
What motivates you?
Watching children grow, learn, and experience success motivates me to be the best teacher I can be. My hope is to help each and every one of my students realize the potential within themselves.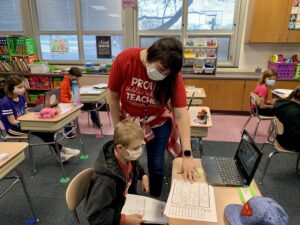 How has your job changed due to COVID?
COVID has challenged me to be more creative in the classroom. I've had to find new ways for my students to engage and work together from a distance. It has been a blessing to be back in the classroom this year!
What is something that people don't understand about your job?
People don't understand that my job isn't just a "job". I don't just work from 8:00-3:00. My students are my "kids." I think about them, I worry about them, I pray for them just like I do my own son.
Why do you love VCSC/your school?
Fuqua is home. I've been here since the very beginning of my career, and our staff truly is a family.
Be sure to check back on #Staffurday–Saturday, that is–as we recognize members of our non-teaching staff. We'll continue both campaigns through the end of the school year.