Every Saturday, we highlight a non-teaching staff member on our Facebook and Twitter (@vcsc_teamvigo) account, turning Saturday into #Staffurday to introduce you to some of the people who make school happen!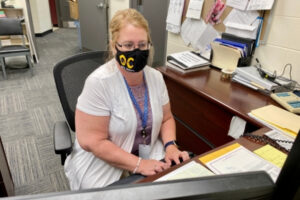 Every year is a great year to celebrate our staff, but this year has shined a bright light on the flexibility and compassion of our incredible staff.
Today, meet Mrs. Shelly Osborn, the treasurer and a secretary at Otter Creek Middle School.
What motivates you?
Helping others motivates me.  I love to help. If I see a need, I will try my best to get it taken care of; whether it be taking care of the Kelly subs, making sure classes have adequate coverage, getting lunch duty covered, helping students with Chromebook issues, and talking with parents when they call in with questions or concerns, I am always there. 
How has your job changed due to COVID?
When we first started remote learning, I helped many parents navigate the Chromebook so they could help their student at home.  I have a knack for solving Chromebook issues which has allowed me to be more involved with students because I am now able to help them with things like navigating Canvas, submitting assignments and so on.  
What is something that people don't understand about your job?
Most people aren't aware of how many hats I wear every day. There are so many facets to my job that require me to perform a wide variety of different tasks from answering the phone, balancing accounts, to helping our school community. There are days where I am pulled in many different directions, and it might get hectic, but the job always gets done. 
Why do you love VCSC/your school?
VCSC feels like a big family. I have made so many contacts that have become friends due to our daily interactions. As for Otter Creek, it feels like home. I have three children who all attended OC and I have been an employee here for the past six years. I look forward to going to work every day. The admin team is the best, and our teachers are outstanding. The environment in our school is always so positive and welcoming that it makes working here a pleasure.
Be sure to check back on Wednesday as we highlight another teacher for #RedforEd Wednesday! We'll continue both campaigns through the end of the school year.