Every Saturday, we highlight a non-teaching staff member on our Facebook and Twitter (@vcsc_teamvigo) account, turning Saturday into #Staffurday to introduce you to some of the people who make school happen!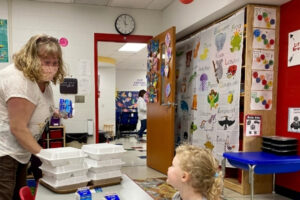 Every year is a great year to celebrate our staff, but this year has shined a bright light on the flexibility and compassion of our incredible staff.
Today, meet Mrs. Kristy Adams, a daycare supervisor at Little Braves.
What motivates you?
What motivates me is all of our kids at Little Braves. They make my job so much fun. Each day is a new adventure. I can have a ton of things to get done but seeing the kids smiling faces or having them tell me the stories of their day just warms my heart! I love to see the excitement and joy in their eyes.
How has your job changed due to COVID?
We have been very fortunate to have stayed open 5 days a week all school year. Masking and meals have been big changes and our kids have done amazing! This year lunches are eaten in the classrooms instead of the commons area due to social distancing.
What is something that people don't understand about your job?
Being the Daycare Supervisor at Little Braves I wear a lot of different hats. On top of my everyday office duties you can see me passing out meals, feeding a baby, or even rocking a little one to sleep.
Why do you love VCSC/your school?
Little Braves hold a special place in my heart. I started out with the A.L.L. Nursery in 2007 and VCSC picked up our program in 2018. Little Braves has grown from 2 classrooms to 7.  Our kids range from ages 6 weeks to 5 years old. It has been awesome to see the program grow!
Be sure to check back on Wednesday as we highlight another teacher for #RedforEd Wednesday! We'll continue both campaigns through the end of the school year.