Every Saturday, we highlight a non-teaching staff member on our Facebook and Twitter (@vcsc_teamvigo) account, turning Saturday into #Staffurday to introduce you to some of the people who make school happen!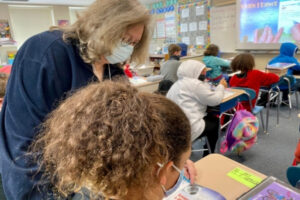 Every year is a great year to celebrate our staff, but this year has shined a bright light on the flexibility and compassion of our incredible staff.
Today, meet Debra Cook, an educational assistant at Davis Park Elementary School.
What motivates you?
I think the thing that motivates me the most is knowing that I have a chance to make a positive difference in someone's day. It could be a smile, a compliment, or just a word of encouragement. That might be all it takes to make someone's day better. Teaching and learning is a lot easier when we're having a good day.
How has your job changed due to COVID?
Many of the one-on-one aspects of my job haven't changed, as long as it's in-person learning. I still meet with my student every day, although we have to be "socially distant." We also have to deal with masks and sanitizing, but that's minor. However, when we had to go to remote learning, everything in my job changed. I was no longer able to see my student and give her the help and support that she needed. That was very disheartening.
What is something that people don't understand about your job?
My job as a one-on-one Educational Assistant can be a very emotionally draining job. I have to be calm and positive, or my student will pick up on that, and she will become harder to work with and motivate. No matter how bad a day might be, I have to forget it at the end of the day, and start fresh the next morning.
Why do you love VCSC/your school?
When my student transferred to Davis Park, I was very apprehensive about making the move with her. Now I am so thankful that I did because I love it here! The support and encouragement that I receive from Dr. Roeschlein, the SPED instructors, the teachers, and other support staff are amazing! It's a great team here at Davis Park, and I am so happy to be a part of it!
Be sure to check back on Wednesday as we highlight another teacher for #RedforEd Wednesday! We'll continue both campaigns through the end of the school year.