Every Saturday, we highlight a non-teaching staff member on our Facebook and Twitter (@vcsc_teamvigo) account, turning Saturday into #Staffurday to introduce you to some of the people who make school happen!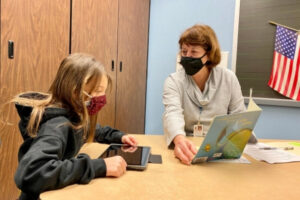 Every year is a great year to celebrate our staff, but this year has shined a bright light on the flexibility and compassion of our incredible staff.
Today, meet Jayne Luken, an educational assistant at DeVaney Elementary School.
What motivates you?
I am motivated by the children.  I find joy in the prospect of making a difference in the life of a child. I love to see their faces light up when they "get" what you're teaching. I'm also motivated by my colleagues. To be able to share and learn from each other motivates me each day.
How has your job changed due to COVID?
COVID has put a strain on everybody. The children want to be at school and we want them here. It's different not knowing if you will go home or be in school.  As an EA, I just try to help the teachers out with whatever they need to get through this stressful situation.
What is something that people don't understand about your job?
Working with the pre-school takes patience. The four year olds are new to the school situation and miss being home with their families. We have to give them comfort as well as teach new ideas to them. I enjoy seeing their little faces light up each day with a new experience.
Why do you love VCSC/your school?
I have worked for the VCSC for 38 years. I loved my 36 years teaching as a tiger at Farrington Grove. I'm now a dragon at DeVaney, as an EA, and love it. Both schools have a wonderful staff that makes everyone feel welcome. It's a great place to work.
Be sure to check back on Wednesday as we highlight another teacher for #RedforEd Wednesday! We'll continue both campaigns through the end of the school year.