Every Saturday, we highlight a non-teaching staff member on our Facebook and Twitter (@vcsc_teamvigo) account, turning Saturday into #Staffurday to introduce you to some of the people who make school happen!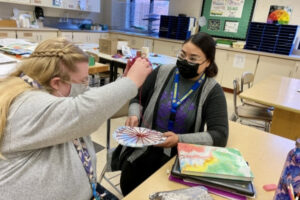 Every year is a great year to celebrate our staff, but this year has shined a bright light on the flexibility and compassion of our incredible staff.
Today, meet Crystal Calderon, an educational assistant at Honey Creek Middle School.
What motivates you?
So many things! Mainly the willingness of all the staff to do whatever it takes to help each student. The acceptance and encouragement I receive inspires me to give my best all the time.
How has your job changed due to COVID?
COVID-19 has changed many things this year. Starting from the first remote learning with the packages sent home last March. I was beyond impressed how we have adapted to being in remote learning, A/B schedules, full time, and back to A/B. My roles changed from working as an educational assistant to becoming part of the day care and back to my regular schedule.
What is something that people don't understand about your job?
People don't understand we have no clear job description and multiple roles at a time. We assist with instructional support and classroom management for individuals and small groups of students. We interact with immediate supervisors, teachers and parents, as assigned by supervising teachers. At the end of the day we are here to help in every way possible.
Why do you love VCSC/your school?
I love my school for so many reasons. Honey Creek has shown me how everyone in the staff is always looking for the students best interests. I am proud to work here and can't wait for my son to attend this school next year.
Be sure to check back on Wednesday as we highlight another teacher for #RedforEd Wednesday! We'll continue both campaigns through the end of the school year.