A check presentation yesterday from Culver's to the Terre Haute South HS FFA program confirmed what students in the building already know: that the new Vigo County School Corporation agriculture programs are starting strong.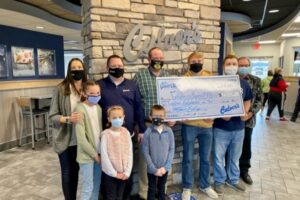 Despite the early days of the program and the struggle of engaging in a hands-on program during COVID-19, the new Terre Haute South HS FFA has 13 members engaging in virtual conferences and livestock judging.
Through a new introduction to agriculture course in Vigo County high schools, students are learning that agriculture isn't what they thought. Students are experimenting with making plastic from corn while discussing issues of sustainability. Students also hone their computer science, graphic design, and engineering skills.
"Maybe our students aren't farm kids but they are interested in technology, design, and engineering, said Keith Denham, agriculture teacher at Terre Haute South High School. "You can find those applications in our courses."
Next year, the program plans to start in on animal science courses and will purchase and restore a tractor. After the program restores the tractor, they will raffle it off as a fundraiser.
The donation from the Bilyeu family and Culver's is through the "Thank You Farmers" program and will help the program with projects, conventions, and travel costs.
"It's vitally important that Vigo County schools has an agriculture program and we want to help sustain it in its early years," said Matt Bilyeu, owner of Culver's. "We believe in the program's ability to attract students and keep our rural students in our schools."