Every Saturday, we highlight a non-teaching staff member on our Facebook and Twitter (@vcsc_teamvigo) account, turning Saturday into #Staffurday to introduce you to some of the people who make school happen!
Every year is a great year to celebrate our staff, but this year has shined a bright light on the flexibility and compassion of our incredible staff.
Today, meet Melissa Green, the cafeteria manager at Riley Elementary School.
What motivates you?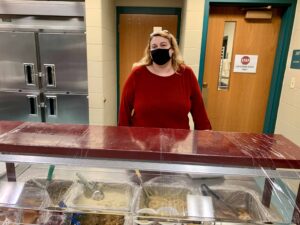 Definitely being a part of feeding our kids, when even one child comes up to you and expresses how much they love the food it makes it very easy to stay motivated and feel that we are doing something important.
How has your job changed due to COVID?
Of course COVID has us all doing things differently, everything from doing grab and go style meals to the way we serve our hot meals with minimal contact. The foodservice department has always maintained a high standard of proper food handling and sanitation procedures and provides ample training and support for our staff.
What is something that people don't understand about your job?
The fact that we prepare and serve hundreds of meals a day at every school in a short amount of time often with minimal staff all while maintaining the highest level of food safety and quality, and at the end of everyday the kitchens are cleaned so well that it would appear as if nothing had ever happened.
Why do you love VCSC/your school?
They care about their employees. It's not just some company who only cares about dividends. The VCSC is a part of the community. They are our friends, family, and neighbors who come together to help each other in times of need.  The outpouring of support when one of our co workers experiences a difficult time is on a scale that most places would never consider and has personally humbled me on multiple occasions.
Be sure to check back on Wednesday as we highlight another teacher for #RedforEd Wednesday! We'll continue both campaigns through the end of the school year.