Every Saturday, we highlight a non-teaching staff member on our Facebook and Twitter (@vcsc_teamvigo) account, turning Saturday into #Staffurday to introduce you to some of the people who make school happen!
Every year is a great year to celebrate our staff, but this year has shined a bright light on the flexibility and compassion of our incredible staff.
Today, meet Nancie Vicino, an educational assistant at Lost Creek Elementary School.
What motivates you?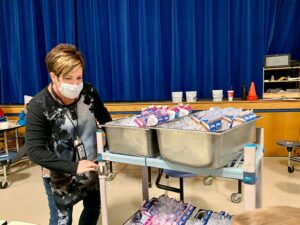 Working well as part of a team and being able to help the students motivates me.
How has your job changed due to COVID?
I don't feel like COVID has changed my job except for having to wear a mask. These are trying times and we must be flexible.
What is something that people don't understand about your job?
It is difficult to be stern and maintain order, because each one of these kids have a piece of my heart!
Why do you love VCSC/your school?
I LOVE my school because of the people I work with! I also love to watch the kids learn and grow year after year. Our Lions are AMAZING!
Be sure to check back on Wednesday as we highlight another teacher for #RedforEd Wednesday! We'll continue both campaigns through the end of the school year.