Every Saturday, we highlight a non-teaching staff member on our Facebook and Twitter (@vcsc_teamvigo) account, turning Saturday into #Staffurday to introduce you to some of the people who make school happen!
Every year is a great year to celebrate our staff, but this year has shined a bright light on the flexibility and compassion of our incredible staff.
Today, meet Courtney Lewis, the health assistant at Fuqua Elementary School.
What motivates you?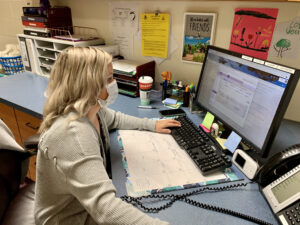 My biggest motivation would have to be my two beautiful daughters, Ayla and Zoey. Everyday they inspire me to be the best that I can be.
How has your job changed due to COVID?
COVID has taken up a great deal of my time this year, tracing, contacting, etc.: being front line with the students and staff. It has put a huge amount of stress on me,
What is something that people don't understand about your job?
I truly think people underestimate all that I am responsible to do on a daily basis. Each day is different and I never really know what to expect until it happens.
Why do you love VCSC/your school?
I love Fuqua most because my amazing boss and the staff I am blessed to work with each day. I have never known a better group who truly care about the students.
Be sure to check back on Wednesday as we highlight another teacher for #RedforEd Wednesday! We'll continue both campaigns through the end of the school year.