Every Saturday, we highlight a non-teaching staff member on our Facebook and Twitter (@vcsc_teamvigo) account, turning Saturday into #Staffurday to introduce you to some of the people who make school happen!
Every year is a great year to celebrate our staff, but this year has shined a bright light on the flexibility and compassion of our incredible staff.
Today, meet Cindy Godar, an educational assistant at Sugar Grove Elementary School.
What motivates you?
Being able to offer support and encouragement to students and teachers so that we can create a positive environment for everyone is what motivates me.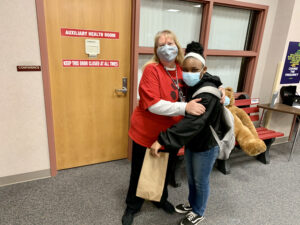 How has your job changed due to COVID?
Staffing needs change frequently now due to COVID. Flexibility and a willingness to step outside my comfort zone have been key.
What is something that people don't understand about your job?
The secret to success is developing a trusting relationship with the students. When students know you are on their side, the challenges are easier to overcome.
Why do you love VCSC/your school?
Sugar Grove has the best PTO!  They go out of their way to boost our school spirit and make us all feel appreciated and loved.
Be sure to check back on Wednesday as we highlight another teacher for #RedforEd Wednesday! We'll continue both campaigns through the end of the school year.