Every Saturday, we highlight a non-teaching staff member on our Facebook and Twitter (@vcsc_teamvigo) account, turning Saturday into #Staffurday to introduce you to some of the people who make school happen!
Every year is a great year to celebrate our staff, but this year has shined a bright light on the flexibility and compassion of our incredible staff.
Today, meet Christi Deal, a behavior interventionist at West Vigo Elementary School.
What motivates you?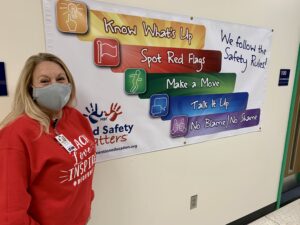 My Kiddos! I love working with children. They all have different personalities, some can be more challenging than others, but I want to help them get the best chance in life.
How has your job changed due to COVID?
Due to the changes in students' routines, it is more challenging to provide for the needs of the students.
What is something that people don't understand about your job?
It is a complex job, one that consists of wearing many hats. Also that the challenges students face are not always a quick fix.  My first priority is to help provide a safe environment for all students.
Why do you love VCSC/your school?
West Vigo Elementary is my home!
Be sure to check back on Wednesday as we highlight another teacher for #RedforEd Wednesday! We'll continue both campaigns through the end of the school year.