Terre Town Elementary
A school where students love to learn
2022 – 2023 School Year Supply Lists
Below you can find links to grade level supply lists. You can also find teacher-specific supply lists on the individual teacher pages in the staff section of the website
Pre-K students do not have required supplies that are needed for the start of school. Parents of Pre-K students should visit Mrs. Markle's page for more information about the start of the Pre-K school year.
Welcome to Terre Town Elementary School
Thank you for visiting our website, and we hope you find it informative and helpful.
This page is currently a work in progress as the Vigo County School Corporation transitions to a more modern web presence. There may be links that are not yet working or sections with place-holder text. Over the coming weeks and months, this will develop into a fully functional site with many informational news items, links to helpful resources, and more.
Thank you for your patience as we continue to improve the site.
If you would like to learn more about our school, please click HERE.
Find the Terre Town  day-to-day calendar by scrolling down just a bit further.
School doors open at 7:45 am
Classrooms open at 7:55 am
The day officially begins at 8:15 am
School is dismissed at 2:40 pm
https://www.youtube.com/watch?v=wLFqkBGyoVw&t=1s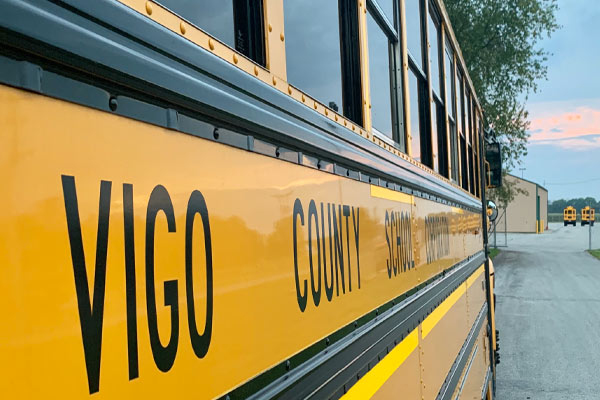 The safe transportation of students is a responsibility shared by the VCSC administration, transportation staff, drivers, parents and students. We are committed to providing safe vehicles and qualified drivers along with school bus safety education to students and parents.
Learn more
The Vigo County School Corporation uses an electronic flyer communication tool called Peachjar. Each school can email electronic flyers to its families. Organizations can send approved electronic flyers to all families at each school. Contact Bill Riley, Director of Communications, with questions.
Learn more

Skyward is our data management system. The Vigo County School Corporation uses Skyward Family Access for parents/guardians to access their child's information, grades, and schedule. If you have questions about access or the information within your account, start with your child's school secretary.
Learn more

Canvas is a course management system that supports online learning and teaching. It allows teachers to post information, lessons, and assignments online. It is being used by schools all over the world.
Visit Canvas
Canvas, Chromebook, and Google Help