Clubs, Organizations, and Teams
Terre Town Clubs, Organizations, and Teams
At Terre Town, we strive to provide our students with extra-curricular opportunities that go beyond the classroom. Below you can find more information about these clubs, organizations, and teams.
National Honor Society
Terre Town Elementary is proud to sponsor its own chapter of the National Elementary Honor Society. Students who display the qualities of leadership, responsibility, scholarship, and service to their community are nominated for this prestigious honor. Qualified applicants are then inducted annually. Students serve as both mentors and examples to the rest of our student body. 
Throughout the school year, students will work both individually and as a group to serve their community and their school. This is done through a combination of personally accumulated service hours (20 hours) and group projects that we may undertake as a chapter. 
By fostering these qualities in our young students, we hope they personally develop into productive members of society, inspiring others around them to be their best selves as well!
Running Club
We are in the 10th year for the Terre Town Running Club! Many of our Tigers have gone on to be successful cross country and track runners at Otter Creek and Terre Haute North. The Terre Town Running Club is open to 3rd-5th graders. We meet on Tuesdays in the Fall and Spring. We enjoy meeting after school for training runs, games, and stretching. Terre Town is committed to encouraging our students to believe in themselves and lead an active healthy lifestyle.
Math Team
Every year, a select group of 4th and 5th grade students are chosen to compete at the annual Honey Creek Math Invitational. This contest puts students' problem solving abilities to the ultimate test through a series of incredibly challenging problems solved under a tight time limit.
Mr. Lugar has been the coach of the Terre Town Math Team since 2005. In the years the team has been active, they have been incredibly successful at the district level, consistently earning multiple awards in the top 20 (including 2 overall champions and several runners-up).
During the 2021 contest, Tigers earned 20th place, 19th place, 11th place, and 2nd place competing against other fifth graders from all 18 elementary schools.
Battle of the Books
The Battle of the Books Reading Team is composed of eight 4th and 5th grade students who make the commitment to read the 20 Young Hoosier Books that have been chosen by a committee to be the year's selected titles.  They practice for many weeks to learn the book's details and then answer a series of questions in a competition type format.  The winning school gets the distinction of being the best at learning their books for that year.  This club takes dedication and one must have the love of reading to participate.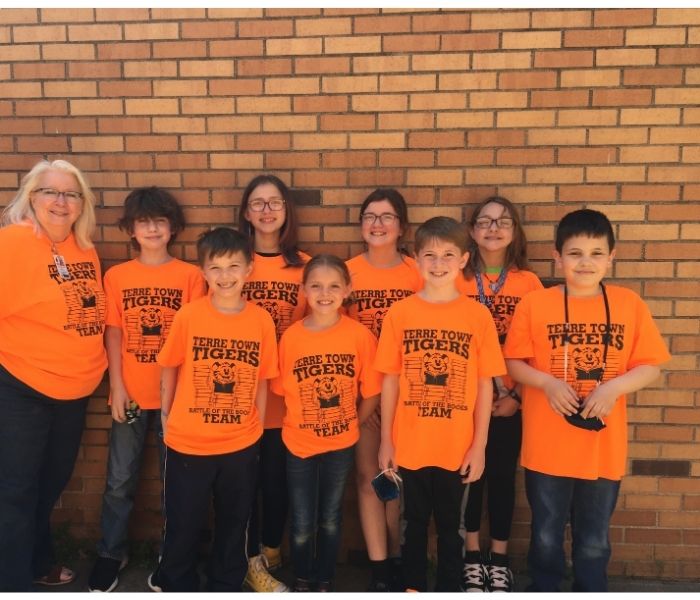 Music Club
Music Club is an opportunity for third, fourth, and fifth grade students to enjoy making music after school!  We play instruments such as xylophones, boomwhackers, bucket drums, and more!  It takes place after school until 3:45 on Mondays and Thursdays.  All third grade members, Mrs. Casserly's members, and Mrs. Hazelwood's members meet on Mondays.  All fifth grade members, Mr. Moore's members, and Ms. Myers' members meet on Thursdays.Children may be picked up on the south side of the building.
Music Club Dates
Third Grade, Mrs. Casserly and Mrs. Hazelwood:  4/5, 4/12, 4/19, 5/3, 5/10, 5/17
Fifth Grade, Mr. Moore, and Ms. Myers:  4/8, 4/15, 4/22, 4/29, 5/6, 5/13, 5/20