SUMMER SCHOOL
VCSC offers an opportunity for students to make up credits in an in-person setting. Summer school will be from Tuesday, May 30th through Wednesday, June 28th, 2023. West Vigo High School will be hosting summer school this year.
Transportation will be provided from each VCSC elementary school to the high school and back. Students will be responsible for getting to the elementary school for the bus each morning and home from the elementary school in the afternoon. Students can choose to take 1-2 courses using the following schedule:
***Grab and Go Breakfast beginning at 7:40am
Class 1: 8:10-10:00 am
Class 2: 10:05-11:55 am
***Grab and Go Lunch 11:55-12:05pm
Buses depart 12:10pm
If your child is in need of credit recovery this summer, please fill out this form:
West Vigo Food Pantry
The West Side Schools have a Food Pantry available to help provide for the families in our community. Please fill out this form and wait for a call from the school to confirm your request. Form Link
Dress Code Policy Clarifications
The Corporation dress code policy has been clarified. Students are encouraged to use sound judgment and reflect respect for themselves and others in dress. In keeping with the goals of the school to provide a safe, healthy and nondiscriminatory environment for educating students for maximum academic and social development. For the full policy click here.
E-Learning Procedures
Click Here for procedures during Snow days or other E-Learning Days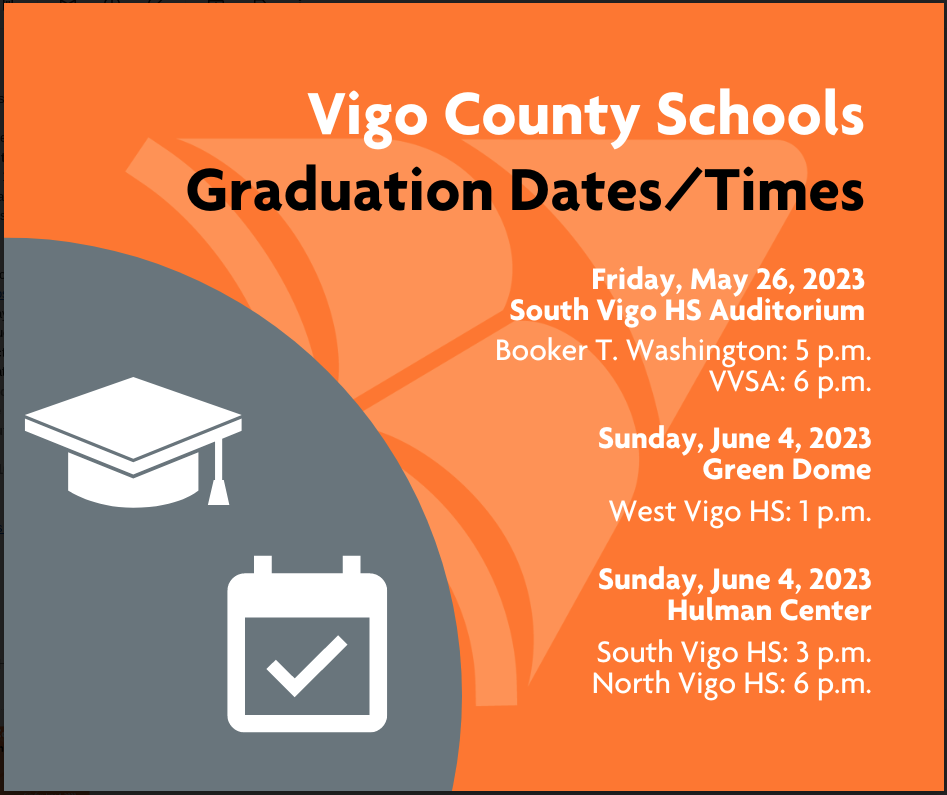 Final Exam Opt-Out Guidelines 
2022- 2023 School Year
To provide an attendance incentive, all VCSC high school students will have the opportunity to opt-out of final exams by class period if the following conditions are met:
Student misses 3 or fewer days for the semester regardless of the reason for the

absence apart from a quarantine that is approved by the Principal, VCSC nurse or the Vigo County Health Department or if the reason for the absence is on the State approved exemption list

Students must have an overall average of a C- or higher when both grading period grades are averaged in order to be eligible

*Students in AP and College Challenge/Dual Credit courses must take the final exam.  Students in College Challenge/Dual Credit classes DO NOT

have to take the final exam if the student is not taking the course for college credit or dual credit.  Teachers of non-college challenge/non-dual credit courses no longer have the option to not allow students to opt-out.  If a student qualifies to opt-out of a non-college challenge/non-dual credit course, then the teacher must allow them to opt-out

Students will be able to opt-out of the final exam for each class in which they have 3 or fewer absences (

*

see bullet 3 for exceptions)
We have a limited supply of WVHS yearbooks from 1975-2020.
The cost varies by year, ranging from $25-$55.
To purchase a yearbook, call Mrs. Gentry at 812-462-4282 or send an email to 
pag2@vigoschools.org
 .