Every Saturday, VCSC highlights a non-teaching staff member on their Facebook and Twitter (@vcsc_teamvigo) account, turning Saturday into #Staffurday to introduce you to some of the people who make school happen!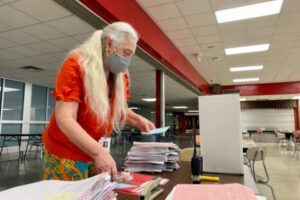 Every year is a great year to celebrate our staff, but this year has shined a bright light on the flexibility and compassion of our incredible staff.
Today, meet Ms. Sandy Grogan-Sills, an educational assistant at Terre Haute South High School.
What motivates you?
What motivates me is I want to alway be busy doing something. Whether I am asked to sew buttons on the ROTC jackets, taking a student down to the boutique, putting labels on envelopes, or just putting papers in alphabetical order for other departments.
How has your job changed due to COVID?
COVID changed my job when I helped in the daycare with elementary age students. I learned how to log students in for Google Meets, I brought in my sewing machine and fabric for the students to make pillows. Doing arts and crafts was so fun.  Going from high school students to a younger age was quite a change. No students in the school meant that there were no students going to be in AEP.
What is something that people don't understand about your job?
My job is being the AEP (alternative education placement ) instructor. Most think I just sit and watch students all day and  don't do very much. I also do a lot of other jobs while in AEP. I have even graded to assist teachers. I also help in the health office when needed. I am the representative of all the EA's in Vigo County.
Why do you love VCSC/your school?
I love my job with VCSC. I started many years ago when my daughter was in kindergarten, and now she has a daughter who is a freshman at Terre Haute North. I moved out of the area and took an EA position in Boone County for a while when my father's health was failing.  I came back to Terre Haute in 2009 and I was hired and have been at Terre Haute South since.  Being off in the summer gives me the opportunity to take part in the many organizations that I belong to.
Be sure to check back on Wednesday as VCSC highlightd another teacher for #RedforEd Wednesday! They will continue both campaigns through the end of the school year.