T. H. South Vigo High School
Home of the Braves
IMPORTANT  DATES
August 8th and 9th
Teachers' Work Days
August 10th
Students' First Day of School
CONGRATULATIONS!!!
Congratulations to the Class of 2023 on all of your accomplishments during your education at Terre Haute South Vigo High School!  We wish you all the best on your future endeavors!  From the Faculty and Staff of South Vigo
2023 GRADUATION T-SHIRTS
Please read the flier below to obtain your 2023 Graduation t-shirts.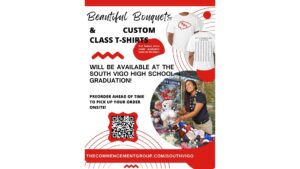 SUMMER SCHOOL INFORMATION
VCSC offers an opportunity for students to make up credits in an in-person setting. Summer school will be from Tuesday, May 30th through Wednesday, June 28th, 2023. West Vigo High School will be hosting summer school this year.
Transportation will be provided from each VCSC elementary school to the high school and back. Students will be responsible for getting to the elementary school for the bus each morning and home from the elementary school in the afternoon. Students can choose to take 1-2 courses using the following schedule:
***Grab and Go Breakfast beginning at 7:40am
Class 1: 8:10-10:00 am
Class 2: 10:05-11:55 am
***Grab and Go Lunch 11:55-12:05pm
Buses depart 12:10pm
If your child is in need of credit recovery this summer, please fill out this form:
REPORTING A STUDENT'S ABSENCE
If you have a student who is absent or needing to go to an appointment, please call 812-462-4252 and press 1 for the Attendance Office. After pressing the 1, be sure to press 1 again if your student needs a pass to leave school for any reason.   Please give as much advance notice as possible if your student needs a pass out to leave.  Press 2 for all other attendance issues, sickness, questions, etc .    Thank you!
REPORTING A CHANGE OF ADDRESS
If you have a change of address, please bring an utility bill with your new address to South's Dean's Office.  This can not be done on the website.  Thank you!
CONGRATULATIONS!
Congratulations to Alvina Mastakar, who has been chosen for the prestigious Songbook Academy® summer music program  (Great American Songbook Foundation) hosted by 5-time GRAMMY nominee Michael Feinstein. You can read more about the program in the latest press release from BroadwayWorld. 
This summer, there are three opportunities to cheer on Alvina during this experience whether in person or via livestream and inspire other talented students in your community!
Ticket information is available at TheSongbook.org/songbookacademyevents 
SOUTH'S FACEBOOK PAGE LINK
Below is the original South Facebook Page Link!