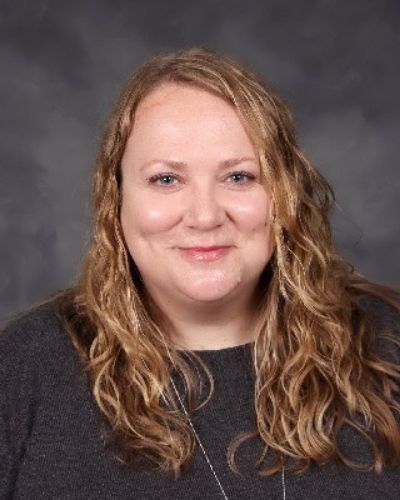 Welcome to the page of
Mrs. Cooper
English Teacher, GSA Faculty Sponsor
Below is the list of materials needed for my courses.  Please have the appropriate items for class and bring them with you every day.
For ALL my English courses:
Writing Tool
Textbook
Paper
Chromebook
Class Rules and Procedures
Be respectful.
Wear your mask daily (unless you have a medical exemption – speak with me).
Be sure to give space to your classmates and teacher; do not crowd anyone.
Be quiet when others are speaking – teacher or student.
Raise your hand.
Be positive in your words about others.
Use good manners.
Keep your desk neat and free of writing/graffiti.
Your teacher – not the bell, releases you from class.
Be prepared.
You must have your charged Chromebook and headphones with you daily.
Keep all graded work.
You must have any assignments that are due that day.
Please be in your seat before the bell rings. We have limited time together and need to get going.
Your phone/device should be put up out of sight before the bell rings.  You are welcome to use your phone during the passing period.
Stay in your seat unless you are given specific permission (except for tissue use).
Consequences
Intentionally disrespecting someone's space or belongings will be dealt with swiftly as it is a matter of health.
Talking when not appropriate, working on other classes' work during our class, disrespect, dishonesty, touching others, horseplay, and using inappropriate language/topics – 1st time: Warning, 2nd time:  Warning, and 3rd time:  detention.  (Discipline continues to build – 4th time: detention, 5th time: Visit to Dean for further consequences.)
Destruction of teacher property will be dealt with more severely – as the situation necessitates.
Should there be continued behavior issues, additional attempts will be made to encourage a change – contacting parents, discipline, etc.
Restroom: Rather than be late to class, please get to class to sanitize your desk and drop off your belongings. Write your name on the board if Mrs. Cooper is not available. You are marked tardy if you are not in on time and haven't checked in with me first.
Sleeping is NEVER acceptable.  If you are not feeling well or there are extenuating circumstances, talk to me before class starts.
Phone/Chromebook policy:  While our class will use phones/devices to aid in instruction (Kahoot, brief research, etc.) and you may also be given free time with it, the phone or Chromebook must be put up (out of sight and left alone all hour) unless you are given specific permission to use it.  Your phone will be taken if you choose to disregard the rule.  (may include involvement with Dean – per corporation policy) If you need to use it, ASK ME FIRST. Once again, your phone is put away from bell to bell unless I give specific permission.  Needing to charge is NOT a valid reason to ignore the rule.
Headphones are out of your ears and put away by the bell; special permission may be given.
*Refusal to follow phone and headphone rules will result in loss of privileges.
**If you do not have necessary supplies for class, you must secure it before class begins.  If you are continuously unprepared, expect consequences (detention).
***I reserve the right to address any other inappropriate choices not specifically outlined in this policy in a way that befits the behavior.
Late Work and Make-up Work
Your work should be completed by the due date.
Be proactive in speaking with me privately if you have accommodations per an IEP.
If you are absent, please check Canvas for missed work.  If you need further explanation, please ask me before or after school as to not disrupt class.  You may also choose to email me with any questions.  You have three days to complete the assignments per school policy.
Make-up quizzes and tests will be arranged on a case-by-case basis.  You must follow up on your own work; I will NOT remind you.
Absences have a negative effect on your grade.  Be here whenever possible.  It is your job to reach out to me and let me know what is going on with you. If I know what's going on, it makes it easier to help you.
TO BE CLEAR: If you are out for a long period of time (COVID, etc.), contact me so we can come up with a plan. I will work with you!
Assignment Excuse
I will excuse one missing regular homework assignment. This does not apply to tests, quizzes, or long-term assignments.
Passes Out of Class
Due to public health concerns, leaving the room is on a case-by-case basis. Please take the opportunity to show your responsible side.
Other Grading Notes
Grading may be delayed due to Covid concerns (in-person).
Your work must be submitted on Canvas; please do not email it to me unless instructed.
NO NAME NO POINTS.  If you do not put your name on your physical work, it will be counted as a zero.
Save your papers in case I make an error in your grade; you must prove the mistake or the grade stands.
**You do your part during class and on homework and I will do whatever I can to help.  See me for additional support.**
***Pass me a note.  Email me.  Remind message me.  Talk to me.  Let me know what you need to be successful.  We are in this together!***
Monday: SRT – Information provided
Tuesday: SRT – Makeup tests and tutoring
Wednesday: SRT – Clubs
Thursday: SRT – Makeup tests and tutoring
Friday: SRT – Makeup tests and tutoring
8:10-8:55:  First Hour
9:00-9:45:  Second Hour
9:50-10:20:  SRT
10:25-11:10:  Third Hour 
11:15-12:45:  Fourth Hour & Lunch Periods 
     A   11:15-11:45  Lunch 
           11:50-12:45  Class
     B   11:15-11:43  Class
           11:45-12:15  Lunch 
           12:20-12:45  Class
     C   11:15-12:13  Class 
           12:15-12:45  Lunch
12:50-1:35:  Fifth Hour 
1:40-2:25:  Sixth Hour
2:30-3:15:  Seventh Hour
10:10-10:40:  First Hour
10:45-12:15:  Fourth Hour & Lunch Periods
     A   10:45-11:15  Lunch 
           11:20-12:15  Class
     B   10:45-11:13  Class
           11:15-11:45  Lunch 
           11:50-12:15  Class
     C   10:45-11:43  Class 
           11:45-12:15  Lunch
12:20-12:50:  Second Hour
12:55-1:25:  Third Hour 
1:30-2:00:  Fifth Hour 
2:05-2:35:  Sixth Hour
2:40-3:15:  Seventh Hour
(Announcements at 3:10-3:15)