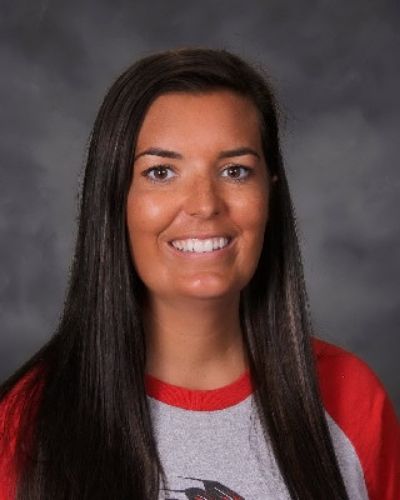 Welcome to the page of Mrs. Clark
PHYSICAL EDUCATION TEACHER
My name is Brittanee Clark, and I am proud to be a South Brave!!  I am from West Terre Haute, graduated West Vigo in 2012, and received a Bachelor's Degree in Education from Indiana State University in 2016. This is my fourth year at Terre Haute South Vigo High School.
Personally, I have been married for 9 year to my husband, Trey. We have one daughter that was born in November and her name is Willow. We also have 2 dogs, 2 horses, and a pony that are apart of our family. As a family we enjoy doing things outside like horseback riding, hiking, traveling, and kayaking just to name a few.
I look forward to working with each student and can not wait to meet everyone!!
PE 1 and PE 2
All remote assignments will be posted on Canvas
Check your grade on Skyward
Any questions about grades or remote assignments email me!
Below is the list of materials needed for my courses.  Please look under your course heading and have the appropriate items for class and bring them with you every day.
PE 1 and PE 2
Athletic Footwear
Shorts/Sweatpants/Leggings
T-shirt
Chromebook
Always be respectful of the teacher's right to teach, other students' right to learn, and everyone in the classroom.
NO cell phone or gum in the gym.
Arrive to the locker room on time every day with ALL your needed supplies.
Bring your own lock – Your gym locker will only be locker if you bring a lock and lock it yourself.
Monday: SRT – Information provided
Tuesday: SRT – Makeup tests and tutoring
Wednesday: SRT – Clubs
Thursday: SRT – Makeup tests and tutoring
Friday: SRT – Makeup tests and tutoring
8:10-8:55:  First Hour
9:00-9:45:  Second Hour
9:50-10:20:  SRT
10:25-11:10:  Third Hour 
11:15-12:45:  Fourth Hour & Lunch Periods 
     A   11:15-11:45  Lunch 
           11:50-12:45  Class
     B   11:15-11:43  Class
           11:45-12:15  Lunch 
           12:20-12:45  Class
     C   11:15-12:13  Class 
           12:15-12:45  Lunch
12:50-1:35:  Fifth Hour 
1:40-2:25:  Sixth Hour
2:30-3:15:  Seventh Hour
10:10-10:40:  First Hour
10:45-12:15:  Fourth Hour & Lunch Periods
     A   10:45-11:15  Lunch 
           11:20-12:15  Class
     B   10:45-11:13  Class
           11:15-11:45  Lunch 
           11:50-12:15  Class
     C   10:45-11:43  Class 
           11:45-12:15  Lunch
12:20-12:50:  Second Hour
12:55-1:25:  Third Hour 
1:30-2:00:  Fifth Hour 
2:05-2:35:  Sixth Hour
2:40-3:15:  Seventh Hour
(Announcements at 3:10-3:15)