Library Media Center
"Libraries store the energy that fuels the imagination. They open up windows to the world and inspire us to explore and achieve, and contribute to improving our quality of life" Sidney Sheldon
Welcome to the
HCMS Library Media Center
The Honey Creek library media center is housed in the main part of the school.  It is a beautiful complex with areas for recreational reading, study, teaching, and technology use.  Desktop computers and printers are available for staff and student use, and two charging stations of 6 chargers each are valuable for powering up chromebooks.  The collection consists of 14,000 books in print, ebooks, and periodicals.
The library media center also houses an area for the student-operated daily news program, WBTV.  The Vigo County Education Foundation awarded Honey Creek two school-wide grants to fund the purchase of digital equipment for the news program enabling the broadcasts to be streamed.
Mrs. Ashley Wehrmeyer is the HCMS media specialist.  She also serves as the AV director and a Technology Resource Teacher.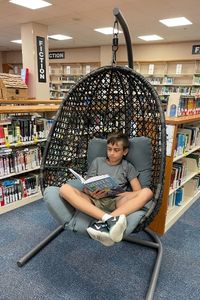 There are many chairs tucked away throughout the library media center inviting students to select a book and curl up for a good read.
The media center is a great place to study.  There are several types of tables with space to spread out chromebooks, books, and reference materials.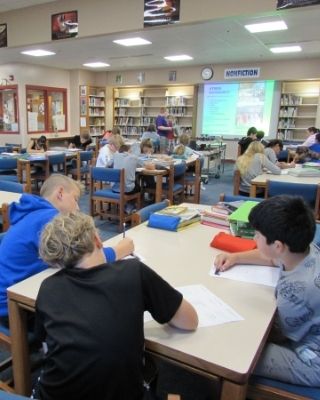 Mrs. Wehrmeyer collaborates with other teachers on several units throughout the year.  Students research topics and produce multimedia projects.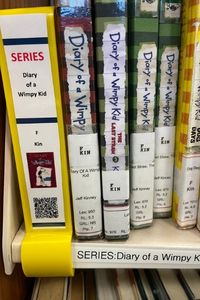 Every series of books in the media center has a sign with a QR code.  When students scan the QR code with their chromebooks, the link sends them to a Google Doc with a list of the books in order.
Student Produced Daily News Program
WBTV
"This is WBTV streaming live from the newsroom."
The above is the opening line from WBTV, Honey Creek's daily student produced news program. The news crew is made up of fourteen students who work together running audio, cameras, and tri-caster to keep the school up to date.   
Funded by the Vigo County Education Foundation, digital equipment, lights, and microphones were purchased and put into operation. 
Young Hoosier Book Award (YHBA) Winner 2022
Pretend She's Here
"Fifteen-year-old Emily has six siblings, but she was also close to her best friend, Lizzie Porter, who died nearly a year ago, and she is still grieving; but Lizzie's family are also grieving, so much so, that they use Lizzie's younger sister, Chloe, as a lure and kidnap Emily, forcing her to dress, talk, and act like Lizzie, and threatening to go after Emily's family if she does not become the replacement for the daughter they lost–and Emily is caught between fear for herself and her family, and concern for Chloe, who she sees is also a victim of Mrs. Porter's madness"–OCLC.
Learn more
2022-2023 Young Hoosier Book Award
Nominees
96 Miles
by J. L. Esplin
Before the Ever After
by Jacqueline Woodson
Black Brother, Black Brother
by Jewell Parker Rhodes
Bloom
by Kenneth Oppel
The Canyon's Edge
by Dusti Bowling
The City of the Plague Gods
by Sarwat Chadda
City Spies
by James Ponti
Clean Getaway
by Nic Stone
Dress Coded
by Carrie Firestone
Efren Divided
by Ernesto Cisneros
Genesis Begins Again
by Alicia D. Williams
In the Hall With the Knife
by Diana Peterfreund
My Life as a Potato
by Arianne Costner
The Only Black Girls in Town
by Brandy Colbert
The Radium Girls: Young Reader's Edition: The Scary But True Story of the Poison that Made People Glow
by Kate Moore
Redwood and Ponytail
by K.A. Holt
Scritch Scratch
by Lindsay Currie
When Stars Are Scattered
by Victoria Jamieson
Whispering Pines
by Heidi Lang and Kati Bartkowski
Yara's Spring
by Sharon McKay and Jamal Saeed