Welcome to our School Counseling Program at Davis Park Elementary!
The job of our team is to help give children the tools they need to be successful in school.  We focus on Social Emotional Learning.  Guidance lessons are done weekly in classrooms.  In our lessons, we cover topics such as Bullying, Body Safety, and Drug Awareness/Prevention.  We also work on social situations, friendships, problem solving, and emotions.  Students can work one on one or in small groups with the school counselor or behavior interventionist as needed.
If ever you have a question or concern, please call or email.  You may also use the button below.  We have access to many resources!  As parents, we are all doing our best.  If there is anything we can do to help your family, please let us know.  We believe that it takes a village to raise a child, and we're glad to be in your village!
Tucker Doty
Assistant School Counselor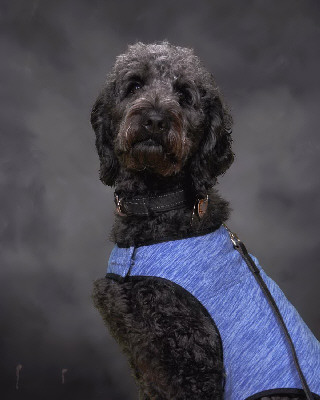 Since August of 2015, I have had the pleasure of working with our students, staff, and families!  I feel strongly about working with children and it is my passion.
Vigo County has been my home nearly my whole life, having attended Fayette Elementary School and West Vigo Middle School.  I graduated from West Vigo High School…Go Vikes!   I graduated from Saint Mary-of-the-Woods College with a bachelor's degree in Early Childhood Education/Mild Interventions.  I received my Master's in School Counseling from Indiana State University.  Prior to my job as a school counselor, I taught developmental preschool, first grade, and kindergarten.
I have the best job a dog could ever want:  I come to school every day to be petted by, well, EVERYONE!
I am a Golden Doodle, which means I am a mix between a poodle and a golden retriever.  My Therapy Dog certification is from Von Bernd K-9 Training.  They said I was a good boy!
Being a therapy dog is very busy!  Besides letting people pet me, I go to guidance lessons to help Mrs. Doty.  Sometimes we go to the playground or to visit classrooms.  My favorite is when the kids read to me!  I have trouble turning pages, so it is better when they just read out loud and show me the pictures.
I don't have a lot to say, but I have plenty of love to give!
If you or someone you know is contemplating suicide, the following resources are available for support: