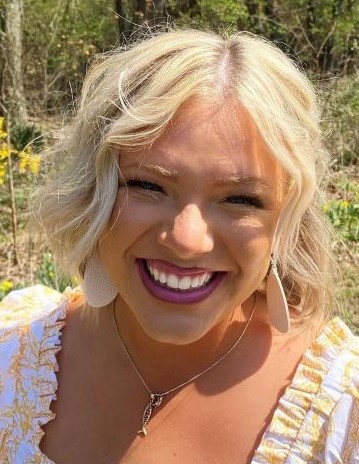 Mrs. Reifsteck's Classroom
Phone: (812) 462-4497
Email: casadee.reifsteck@vigoschools.org
Hello!  My name is CasaDee Reifsteck, and I am so excited to be your teacher this year! I recently graduated from Indiana State University with my bachelors in Elementary Education! I live in Terre Haute with my husband, Blake, and our Golden Retriever, Leo! In my time away from teaching, I like to go on walks with Leo and spend time with family and friends. I am so honored to be able to share this experience with you! Devaney Elementary is a special place to bring new knowledge and memories to the classroom. It will be a great year in Kindergarten!
Some of my favorite things are:
Favorite Color: Pink
Favorite Food: Pizza
Favorite Hobbies: Reading, Music, and Walks with Leo
Favorite Places: Walt Disney World
Favorite Restaurant: Olive Garden
8:00-8:30:  Breakfast/Morning Tubs
8:30-8:45:  Morning Meeting
8:45-9:45: Reading/ Writing Block
9:45-10:20: Literacy Stations
10:20-11:00: Lunch/ Recess
11:00-12:10: Read Aloud/ Science/ Social Studies
12:10-12:50: Specials
12:50-1:30: Whole Group Math
1:30-1:45: Recess
1:45-2:15: Math Stations
2:15-2:35: Calendar/ Snack/ Pack/ Dismissal
Our Encore Class Schedule
Monday- Music
Tuesday- Art
Wednesday- Library
Thursday- Computer Lab
Friday- P.E.
Classroom Rules
Rule #1: Follow Directions Quickly!
Rule #2: Raise your hand for permission to speak!
Rule #3: Raise your hand for permission to leave your seat!
Rule #4: Make smart choices!
Rule #5: Keep your dear teacher happy and share kindness!
The following items do not need to be labeled with students' names:
16 glue sticks
2 boxes of 24 pack of crayons
1 pack of pencils (plain yellow)
4 or more dry erase markers (colors are nice)
a snack for the class (enough for 24)
The following items need to be labeled with students' names:
3 ring plastic pencil holder that can go in a 3 prong folder (clear is nice)
1 pair of safety scissors
1 pencil box
1 primary composition notebook
1 box of washable markers (broad tip)
2 watercolor paint sets
change of clothes with your child's name on it in a gallon baggie
 large backpack
framed family picture to display in the classroom
headphones (not earbuds)
reusable water bottle
Boys please bring:
1 package of napkins
1 box of quart-sized baggies
Girls please bring:
4 pack of playdoh
1 box of gallon-sized baggies
Optional:
1 container of disinfectant wipes
1 container of baby wipes
small plastic cups
colored cardstock
1 package of paper plates
These items are optional, but are greatly appreciated in our classroom!
Extra Dry Erase Markers
Extra Glue Sticks
Colored Card Stock
Sanitizing Wipes