Mission
The mission of Sugar Creek Consolidated is to create and maintain a healthy, safe, and engaged learning environment that ensures that every student achieves a high level of academic success as determined by local, state, and national standards and supported by caring adults.
Vision
The vision of Sugar Creek Consolidated is that of students being prepared with 21st century skills ~ focusing on academic rigor that includes critical thinking and creativity, preparing students for college, work, and citizenship.
Academic Goals
Sugar Creek Consolidated School was designated as an Indiana Four Star School in 2002 and 2006.  We are proud of this achievement, yet continuous school improvement is essential for today's children.  We have identified for our school improvement plan two academic areas for special emphasis.  Our goals are to increase student performance in reading comprehension and written expression.  Our professional development and study is aligned with these academic areas.  Families are encouraged to read often with their children and engage in helping children write letters, cards, and other kinds of writing used in everyday life.
Even though we have specific goals for reading and writing, Sugar Creek Consolidated School is also committed to excellence in mathematics, science, social studies, and related arts.  We welcome and encourage active parental involvement.
Our History
In 1922, Edna L. Concannon wrote, consolidation is the keynote of modern rural education.  In the early 1900's, Sugar Creek Township was one of the largest townships in Vigo County and eagerly sought the advantages of consolidation, since it had outgrown its age-old system of little red school houses.
In 1920 five one-room school buildings were in use in the southern part of the township.  Popp school had 63 students, McFall had 13 pupils, Robinson had 16 children, Black had 9 students, and Cassady school had an enrollment of 6.  Each school required a teacher, equipment, and heating, all of which added considerable expense to the township, yet the children were not receiving the advantages of modern education. The influx of a number of forward thinking people in the community brought about a demand for better educational facilities for their children.  On November 27, 1920, the Black school building burned, and this enrollment was shifted to the already overcrowded Popp school.  This brought about dissatisfaction, and a movement for a new school.  On January 3, 1921, a petition was presented to Thomas Concannon, township trustee, for a modern brick building which would house all districts of this community.  The advisory board met and declared that an emergency existed.  A bond issue of $60,000 was sold, and the contract was let for a modern, three-story, brick building on July 15, 1921.  Work began at once and the building was ready for occupancy in September, 1922.  Students and teachers moved into the new, modern Sugar Creek Consolidated School.
The old school stood in this neighborhood for over 80 years. Once again, we outgrew the 1922 school and the demands of modern education certainly changed. Construction on a new school began in March, 2003. Decorative limestone pieces were removed from the old school and used in the new construction. The 1922 dedication stone was removed and installed in the lobby area of the new building. An anchor, made of bricks from the old school, was laid in the front walkway. During the summer, the new building, nestled at the edge of the woods, was completed. In the fall of 2004, the children and staff moved into their new modern building.
This is the original Sugar Creek Consolidated Elementary building, built in 1922.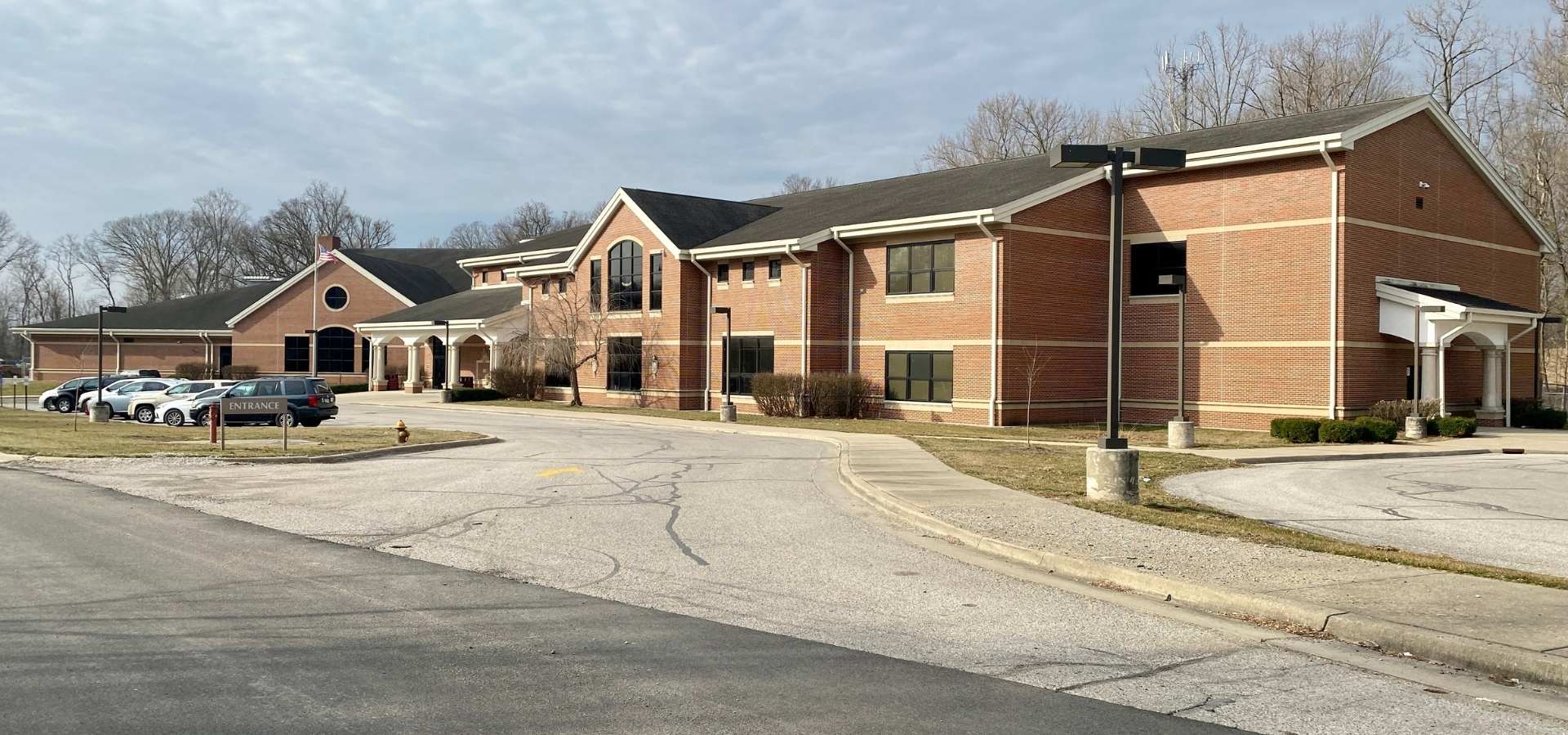 This is the current Sugar Creek Consolidated Elementary building, built in 2004.