Welcome to the page of
Mrs. Southard
Hello!  My name is Jodi Southard, and it is my pleasure to welcome you to our 1st grade classroom.  I was born and raised in Terre Haute and actually attended Lost Creek Elementary as a child.  I received my undergraduate degree from Indiana State University in 2001 and my Masters degree from Indiana Wesleyan in 2006.
This is my 20th year teaching.  I have taught Art, 3rd grade, and 1st grade, but my heart is definitely in 1st.  I am married and have two daughters and one son.
In my free time, I love to do CrossFit, read, and spend time with my family.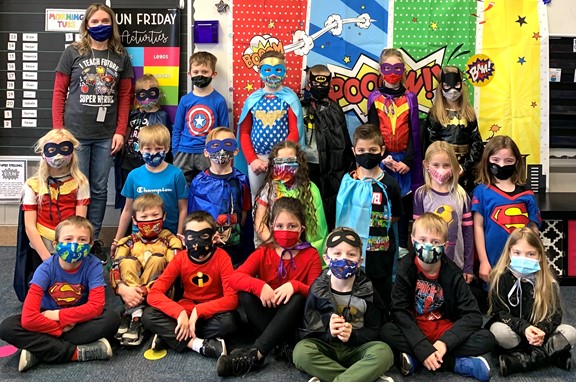 backpack
pencil box
pencils
scissors
crayons
glue sticks
2 pocket folders
2 spiral notebooks
Highlighter
Dry Erase Markers
Tissues
Roll of Paper Towel
If you are willing to supply any of the items, it would be greatly appreciated.
Gallon-sized Ziploc bags
Sandwich size Ziploc bags
Extra glue sticks
Extra crayons
Try your best every day!
Listen while others are speaking.
Follow the teachers directions the first time.
Be kind and respectful to everyone.
Keep your hands, feet, and other objects to yourself.
Monday: Art
Tuesday: Computer Lab
Wednesday: Music
Thursday: Library
Friday: PE
8:00-8:30:  Morning Work
8:30-9:00:  Calendar/Morning Meeting/Read Aloud
9:00-9:30: I/E
9:30-10:55: Reading Block
10:55-11:35: Recess/Lunch
11:35-12:10: Writing
12:10-12:50: Encore
12:50-1:30: Math
1:30-1:45: Recess
1:45-2:00: Math
2:00-2:35: Science/Social Studies
2:40: Dismissal