Meet the Counselor, Ms. Eup!
Phone: (812) 462-4307 X2
Email: hillary.eup@vigoschools.org
Visit https://www.facebook.com/CounselingBobcats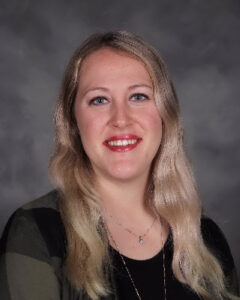 Meet Fonzie, our therapy dog in training!
Welcome!
Welcome to the Rio Grande Counseling website.  My name is Hillary Eup and I'm the School Counselor for Rio Grande.  A little about me;  I attended Purdue University for my Bachelors of Science in Education, Curriculum, and Instruction.  I then attended Indiana State University where I earned my Masters in Education for School Counseling.  I am currently an active member of the American School Counseling Association (ASCA) and the Indiana School Counseling Association (ISCA).
I have been the School Counselor at Rio Grande for four years.  Serving our community and supporting our students' mental health and well-being is my passion!  During my free time, I love gardening, fishing, and training our future therapy dog, Fonzie. I am looking forward to continuing my work at Rio Grande and working hard to support our school and it's community.  Go Bobcats! 
Chromebook Supplies
Ear Buds or headphones
(optional) Wireless Mouse
(optional) Keyboard Cover
Hello!  Thank you for your support in our school's counseling program.  Attached is a link to our wish list.  Everything on this list has been selected to benefit all students and staff at Rio Grande.  Any donations can be sent to the school at 5555 E. Rio Grande Ave. Terre Haute, IN 47805
Wish List
Always be respectful of the teacher's right to teach, other students' right to learn, and everyone in the building.
Show Empathy treat others the way you would like to be treated.
Try your best because practice makes perfect!
Think before you speak: is it True, is it Helpful, is it Important, is it Necessary, is it KIND.