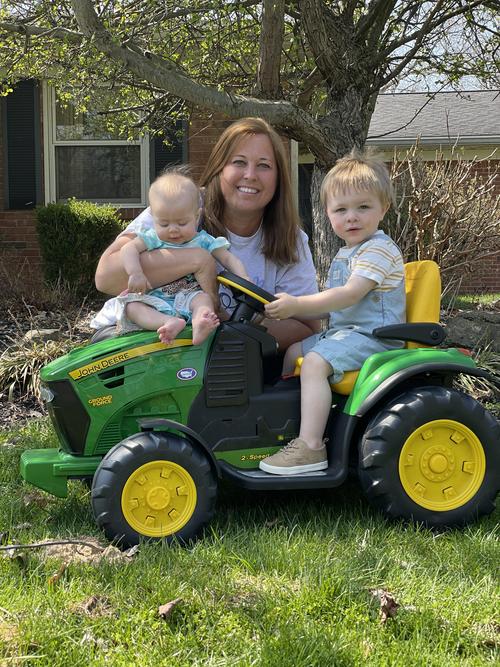 Welcome to the page of  Ms. Cardinal
Phone: (812) 462-4307
Email: mlc3@vigoschools.org
Visit
Welcome to first grade!  My name is Ms. Cardinal. I have been a teacher since 2006. Prior to that, I was a substitute teacher while being a stay at home mom. My first year of teaching was at Hoosier Prairie Elementary as a kindergarten teacher. I have been a first grade teacher at Rio Grande since the fall of 2007.  I have three adult children and two amazingly perfect grandchildren.  I am a Colts fan, I love spending time with my friends and family and enjoy traveling.
Student Supplies
2 boxes of crayons
1 pair of scissors (blunt)
2 large boxes of tissues
1 plastic school box (not the large one)
48 or 2 boxes of 24 (number 2) pencils
4 packs of Twistable colored pencils
6 glue sticks
1 large pink eraser
1 small box of pencil top erasers
2 plastic purple folders with prongs
8 dry erase markers (fine-tip, black)
Chromebook Supplies
Ear Buds or headphones
(optional) Wireless Mouse
(optional) Keyboard Cover
Extra Supplies
Donations of post-it notes, zip lock bags and Band-Aids are appreciated.
Classroom Supplies
These are items we use and need throughout the year.  If you would like to help out by donating these items it would be aprreciated.
paper towels
dry erase markers
baby wipes
Classroom Snacks
big bag of Skittles
Juice boxes
individual packaged snacks ( pretzels, cookies, snack bars)
Items Needed for _________
Info will be added for special events or classroom activities at the time of the need.
Ms. Cardinal's First Grade Rules
Follow Directions
Raise Your Hand For Permission To Speak
Raise Your Hand For Permission To Leave Your Seat
Make Smart Choices
Keep Your Dear Teacher Happy
Super Improver's Team
We will be using the " Super Improver's Team" Behavior Program in the classroom to encourage good behavior.  This Program consists of 10 levels.  Students can move up a level by earning 10 stickers. When a student completes a level, he/she will bring home their sticker chart, receive a prize and move to the next level.  Some students may not make it all the way to the 10th level and that is okay! the point of this system is to allow students to progress at their own pace. Students can earn stickers by showing improvement in academics, character, and behavior.
Level 1:  Rookie                                            Level 6: Whiz Kid
Level 2: Learner                                           Level 7: Pro
Level 3: Leader                                             Level 8: Expert
Level 4: Captain                                           Level 9: Master
Level 5: MVP                                                 Level: 10 Legend
Monday:  P.E.  ( Wear Sneakers)
Tuesday: Computer Lab And Miss Eup
Wednesday:  Music
Thursday:  Art
Friday:  Library
8:00-8:15 :  Morning Work
 8:15-8:30 : Calendar Time
8:30-9:30 :  Math
9:30-11:00 : Reading  
11:00-11:40 : Lunch/Recess
11:45-12:00 : Read Aloud
12:00-12:40 : Encore
12:45-1:15: Reading Intervention/Enrichment
1:15-1:45 : Writing/Spelling/Grammar
1:45-2:00 : Recess
2:00-2:30 : Science/Social Studies/ Health
2:30-2:40 :  Prepare to Dismiss