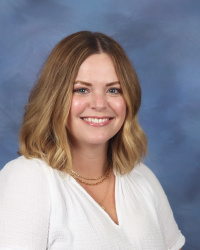 Mrs. Lovell's
3rd Grade
Class
Phone: (812) 462-4449
Email: lindsay.lovell@vigoschools.org
Hi. My name is Lindsay Lovell. I am excited to be your child's teacher this year! This is my eighth year teaching and my fourth year in 3rd Grade at Riley Elementary. My goal as a teacher is to cultivate a love for learning in a fun and respectful community. I have a passion for STEM education and aspire to provide many hands-on learning experiences for my students.
I was born and raised in West-Central Indiana. My family and I have called Terre Haute home for the past 11 years. We have grown to love this tight-knit community. My husband is a Civil Engineering professor at Rose-Hulman, and all three of our children have been or currently are Riley Racers. You are likely to find my family and I enjoying the outdoors, hiking, or visiting state parks.
1 composition notebook
1 pkg. loose leaf lined paper
2 small glue sticks
1 small bottle glue
1 pair pointed scissors
1 pkg. colored pencils
1 pkg. dry erase markers and eraser
1 pkg. markers
2 highlighters
1 box of crayons
1 pink pearl eraser
1 school supply box (5″x8″) – NO LARGER PLEASE
24 pack pf #2 pencils (no mechanical or decorative, please)
1 pkg. 4″x6″ ruled index cards
backpack (without wheels)
4 plastic 3-pronged pocket folders (1 each red, green, blue, yellow)
1 box of tissues
1 box of gallon plastic zipper bags
BE RESPECTFUL of the teacher's right to teach, other students' right to learn, and everyone in the classroom.
BE READY by having the correct materials out and looking at and listening to the teacher.
BE RESPONSIBLE by bringing all required materials to school each day and turning in work on time.
Monday: Art
Tuesday: Library
Wednesday: Computer/Counselor
Thursday: P.E.
Friday: Music
8:00-8:25:  Soft Start/Morning Meeting
8:25-9:05: I/E
9:05-10:35: Language Arts, Reading, Writing
10:35-11:15: Specials
11:15-11:30: Handwriting
11:30-11:50: Lunch
11:50-12:10: Recess
12:10-12:30: Read Aloud
12:30-1:30: Math
1:30-1:50: Science/Health
1:50-2:05: Recess
2:05-2:35: Social Studies
2:35: Pack-Up/Class Jobs
2:45: Dismiss